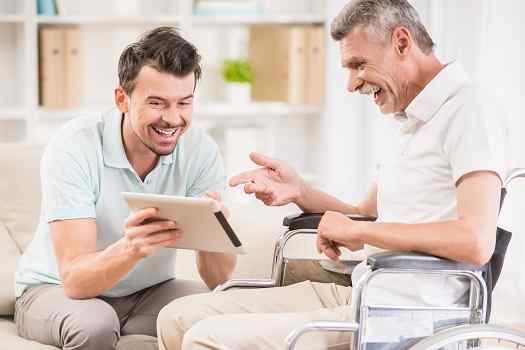 After a dementia diagnosis, many caregivers are shocked when their loved ones exhibit aggression and anger, which is one of the challenges of dementia that caregivers are often least prepared to handle. Learning more about the subject can help you understand the underlying causes and find solutions to the issue. Here are a few things you can do to make it easier to handle a senior loved one with dementia who is behaving in an aggressive manner.
1. Look for Underlying Causes
Being able to identify causes can help you calm your loved one down in the moment and possibly prevent aggression in the future. Seniors with dementia often get aggressive when they feel uncomfortable, overwhelmed, or scared, which means things such as cold room temperatures, too-tight clothing, loud television volume, or a doorbell ringing could trigger aggression. To identify causes, keep track of aggressive episodes and think about any common factors.
Symptoms such as agitation, confusion, anger, and frustration are common in elderly people with dementia. Dementia can be challenging for seniors to manage, but they can maintain a higher quality of life with the help of professional
dementia care. Des Moines
seniors can benefit greatly from the Cognitive Therapeutics Method (CTM), an activities-based program designed to promote cognitive health and delay the onset of dementia. CTM is included at no additional charge with any of the in-home care plans provided by Home Care Assistance.
2. Avoid Responding with More Aggression
It may feel personal when your loved one is screaming in your face, but you need to try to rein in your temper and avoid arguing. Take a deep breath and remind yourself it's just the dementia causing the aggression. Try to avoid letting your loved one draw you into an argument. Instead, keep a pleasant expression on your face and talk in a calm, quiet voice. Seniors with dementia often respond well to reassuring, comforting body language and facial expressions.
3. Switch to Another Activity
When you cannot address the cause of aggression because you don't know what it is, the best thing to do is switch things up. Try moving to another activity, changing rooms, or altering the situation your loved one is in. However, it's important to avoid overwhelming your loved one while he or she is feeling aggressive, so you need to make sure you distract him or her with calming actions, such as singing a song, eating a sandwich, or reading a book.
The cognitive challenges that accompany dementia often leave aging adults unable to manage everyday tasks, which puts their safety and health at risk. If your senior loved one has been diagnosed with a serious condition and needs help with tasks like meal prep, transportation, bathing, and grooming, reach out to Home Care Assistance, a leading provider of
home care
families can trust. We also offer comprehensive care for seniors with dementia, Alzheimer's, and Parkinson's.
4. Create a Calm Environment
Aggressive behavior tends to happen when seniors with dementia are unable to process everything that's going on in their heads, so they lash out instinctively. A calm environment with few distractions can reduce aggressive episodes. Try to lead your loved one to a quiet room without bright lights or too many people so he or she can calm down.
5. Seek Medical Assistance
Seeking out medical help for chronic dementia-related aggression is always a good idea. For many seniors, aggression is caused by pain, so you need a doctor to check your loved one and make sure he or she is safe. Doctors can also recommend mood-stabilizing medications and other strategies for addressing the anger. Caregivers also have access to emergency medical services if seniors are in unsafe situations. If your loved one cannot calm down and is putting you or him or herself in danger, you can call emergency services, explain your loved one has dementia that causes aggression, and ask for help.
Caring for a loved one with dementia is a challenging task for anyone. The responsibilities can sometimes feel overwhelming, but help is available. Seniors can face a variety of age-related challenges. Though some families choose to take on the caregiving duties, there may come a time when they need a trusted
Des Moines at-home care
provider. Families sometimes need respite from their duties so they can focus on their other responsibilities, and some seniors need around-the-clock assistance that their families are not able to provide. Home Care Assistance is here to help. Call one of our dedicated Care Managers today at (515) 264-2438 to learn about the high quality of our in-home dementia care services.