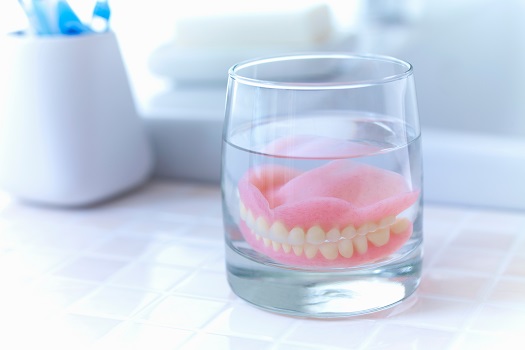 Even if your senior loved one doesn't have teeth, it's still important to maintain oral hygiene. Proper hygiene can prevent infections or other oral conditions that can lead to discomfort and poor health. Follow this checklist to keep your loved one's mouth and oral prosthetics as healthy as possible.
Gently Clean Gums
Make sure your loved one cleans his or her gums twice a day. This can be done with either a very soft toothbrush or a wet washcloth. Since the gums have a much softer surface than the teeth, your loved one doesn't need to apply a lot of pressure to clean them. 
Seniors who need assistance with maintaining good oral hygiene habits or managing daily activities can benefit from professional in-home care.
Homecare
professionals can be a wonderful boon to seniors. Whether they require around-the-clock supervision or just need assistance with exercise and household tasks a few days a week, seniors can enjoy a higher quality of life with the help of trusted in-home caregivers.
Swish with an Antibacterial Mouthwash
The tongue tends to be a place where bacteria thrive, causing infections and bad breath. Your loved one should swish an antibacterial mouthwash around for a minute twice a day to make sure his or her tongue is clean. It's best to do this without dentures in place, since some mouthwash solutions may damage the surface of dentures. 
Rinse Dentures after Meals
Dentures are worn during eating to assist in the chewing process if a senior doesn't have teeth. It's important to clean the dentures after each meal by taking them out and rinsing them in warm water. This removes loose food particles that could otherwise linger in the mouth and promote bacterial growth. 
Clean Dentures Daily
Dentures shouldn't be cleaned with normal toothpaste, which can abrade the surface and cause scratches that could harbor bacteria. Some types of dentures need to be cleaned with a denture paste and soft toothbrush, and others can be cleaned by being soaked in a special solution recommended by the dentist. 
Remove Dentures Overnight
This step is particularly important because wearing dentures all day can lead to mouth sores. Removing dentures overnight gives the gums time to rest without being abraded by the dentures. Make sure your loved one cleans the dentures after removing them and soaks them in water or a cleaning solution overnight. This ensures they stay flexible and adhere properly in the morning. 
A professional caregiver can help your loved one adopt good oral hygiene practices.
Families who need help caring for senior loved ones can turn to Home Care Assistance, a leading provider of
Des Moines at-home care
. Services
available in our customizable care plans include meal prep, mental and social stimulation, assistance with personal hygiene tasks, and much more.
Visit the Dentist Regularly
Not having teeth doesn't mean the days of visiting the dentist are over. Seniors still need to have regular exams to assess their oral health and talk with their dentists about concerns they have. Dentures can stop fitting properly as the shape of the mouth changes, so dentists may need to make adjustments to help seniors wear their oral prosthetics correctly. 
If you're the primary family caregiver for a senior loved one living in
Des Moines, live-in care
is available if your loved one's health has become too difficult to manage without professional expertise. At Home Care Assistance, we take measures to help seniors prevent illness and injury by assisting with exercise and mobility, preparing nutritious meals, helping with bathing and other personal hygiene tasks, and much more.
To create a comprehensive in-home care plan for your loved one, call us at (515) 264-2438 today.