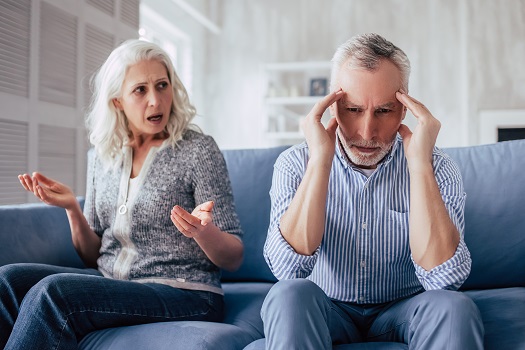 Being accused of theft by an aging loved one may feel as though you've been robbed of his or her respect. However, false accusations are a common symptom of dementia that caregivers often face in the later stages of the disease. In case this situation happens to you, read through this list of strategies that can help you preserve your relationship with your loved one as well as your reputation.
Remember the Reason for the Accusation
Your loved one might have never accused you of theft when he or she was of sound mind. However, now dementia has changed the way your loved one thinks, and accusations of theft may be coming from some type of unmet need. For instance, your loved one may feel confused by the changes in memory, or he or she may be fearful of losing control. Recognizing the emotions behind your loved one's accusation can help you not take it personally. If you can nail down the underlying reason, address it by shifting gears. For instance, you could act as though you aren't sure where your loved one's favorite piece of jewelry or shirt has gone and offer to keep an eye out for it.
Seniors with dementia may exhibit numerous behavioral changes. There are a variety of age-related health conditions that can make it more challenging for seniors to live independently. However, many of the challenges they face can be easier to manage if their families opt for professional
home care. Des Moines
families can rely on expertly trained caregivers to keep their loved ones safe and comfortable while aging in place.
Document Essential Information
Accusations of stealing minor things such as a shirt or the remote can usually be overlooked. However, your loved one may also accuse you of more serious types of theft such as taking money from his or her bank account. As a caregiver, you may need to do things such as use your loved one's money to pay for a bill. Make sure to keep meticulous records of your actions. Save receipts, and use a ledger to keep track of any financial transactions you conduct in your loved one's name. While you hopefully never need it, you can rest assured you can prove yourself innocent of theft.
Offer to Help Your Loved One Look for the Missing Items
Although your natural response may be to tell your loved one that you don't steal, you may have more luck if you acknowledge his or her concerns. Simply say how you can tell he or she is upset that something has gone missing. Then, help your loved one look for the item. If your loved one accuses you of stealing money, pull out your records and show him or her where it has been used to cover a need. Remember you should do this without expressing any judgment. Demonstrating genuine concern may be more effective for setting your loved one's mind at ease.
Properly caring for seniors with dementia can be challenging for untrained family caregivers. Families who find it difficult to care for their aging loved ones without assistance can benefit greatly from professional
respite care. Des Moines, IA
, family caregivers who need a break from their caregiving duties can turn to Home Care Assistance. Using our proprietary Balanced Care Method, our respite caregivers can encourage your loved one to eat well, exercise regularly, get plenty of mental and social stimulation, and focus on other lifestyle factors that promote longevity.
Work with the Authorities
At times, people with dementia report their false beliefs to police officers or other members of authority. In fact, other family members who are in denial of your loved one's condition may question you about where your loved one's money or belongings have gone. Try to remember each of these people has your loved one's best interests in mind. Be polite and work with anyone who arrives to investigate the situation. You can also be prepared to furnish proof of your loved one's diagnosis as necessary. Once your loved one sees you have nothing to hide, you can move forward with his or her care plan.
Seniors can face a variety of age-related challenges. Though some families choose to take on the caregiving duties, there may come a time when they need a trusted Des Moines home care provider. Families sometimes need respite from their duties so they can focus on their other responsibilities, and some seniors need around-the-clock assistance that their families are not able to provide. Home Care Assistance is here to help.
Give us a call at (515) 264-2438 to talk to one of our professional Care Managers.